We have over 20 Years of Experience in handling Employment based Green Cards and porting from EB3 to EB2 preference Category, we Comply with USDOL Regulations for PERM Process and I-140 Process with the USCIS.The porting invloves filing a new PERM labor Certification and filing a new I-140 under EB2 Category. Upon PERM approval, your existing EB3 Priority date will be ported to the new I-140 while filing with the USCIS
If you need more information, please speak to a HR Specialist at +1 (201) 228-3009
Eligibility Criteria for EB2 Category
U.S. master's degree – as long as it is in the field required no additional documents would be required
4 yr bachelor's degree + 5 Years of Progressive Experience
4 yr bachelor's degree + 2 yr master's degree ( India ) – with degrees in the same or related fields this will generally be considered the equivalent to a U.S. master's degree with no additional documents required
3 yr bachelor's degree + 3 yr master's degree ( India ) – with degrees in the same or related fields this will generally be equivalent to a U.S. master's degree with no additional documents required
3 yr bachelor's degree + 3 yr master's degree ( India ) – with degrees in the same or related fields this will generally be equivalent to a U.S. master's degree with no additional documents required
3 yr bachelor's degree + 2 yr master's degree (India) – Generally this would be the equivalent of a bachelor's degree + 1 year and would require 5 yrs progressive experience to qualify under the 2nd preference category: However, foreign credential evaluation using the following additional evidence could make it to EB-2, Master's degree equivalent
Examples of comparable U.S. master's degree programs requiring only one year to complete (indicating that a total of 5 years of undergraduate and graduate level education is sufficient); or
Credential evaluations that provide a detailed comparison of credit hours completed by the beneficiary for the 3 year bachelor's degree program with credit hours required by comparable U.S. bachelor's degree programs.
3 yr bachelor's degree + 2 yr master's degree ( India ) + 5 yrs progressive, post-master's degree experience – Generally the educational degrees would be determined to be the equivalent of a U.S. bachelor's + 1 year and the beneficiary would meet the statutory requirement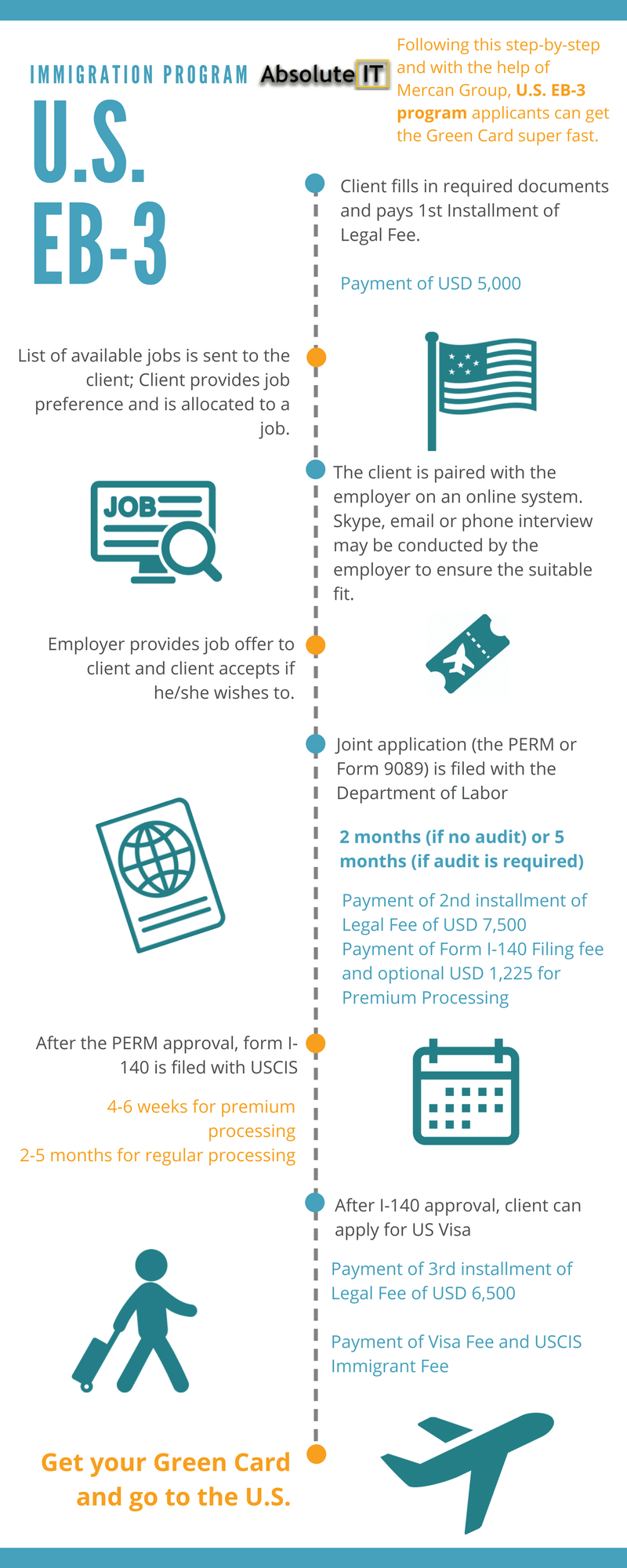 3 yr bachelor's degree + 2 yr master's degree + 1 yr postgraduate diploma (India) – Generally this would be the equivalent of a bachelor's degree + 1 year and would require 5 yrs progressive experience to qualify under the 2nd preference category. If the postgraduate diploma is determined to be progressive postgraduate education that is a continuation of the 3 yr bachelor's degree or the 2yr master's degree it is possible that this would be considered the equivalent to a U.S. Master's degree and there would be no need to establish 5 yrs progressive experience
If a master's degree is required and the beneficiary does not have a U.S. master's degree in the specified field of study the petitioner should be prepared to submit sufficient documentation to establish that the education that the beneficiary possesses is the equivalent to a U.S. master's degree in the required field.
Absolute IT, Inc. provides a rewarding career and provides excellent benefits to H1B Non-Immigrant Workers. Read Employee benefits!
At Absolute IT, Inc. we strongly believe in long-term relationships with our IT contractors. We communicate with you during your engagement, provide on job Support if needed and work with you in finding new Projects. If you decide to leave us for any reason, we will just stay in touch with you for future Project/Employment opportunities.